$100,000 Donated to Inner City Education (ICE)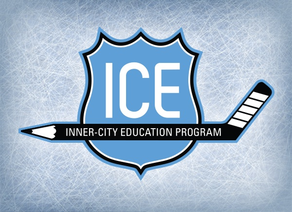 The ICE Program is a Chicago based 501(c)3 non-profit.
Established in 2003 to help low income children
obtain educational and hockey opportunities.
Their mission is to help kids succeed in school and life through
tutoring, mentoring, coaching and team building through hockey. We think Caitlin would be proud and we
hope you are too.
Caitlin's FRANKIE Fund continues at Kellogg Cancer Center

We donated $40,000 this year to support The FRANKIE Fund (named for Caitlin's dog Franklin). The fund makes a very real impact on patient quality of life at NorthShore Kellogg Cancer Center by providing both emotional and financial support.
"Cait's Place" at PAWS Chicago Now Open!
Caitlin LOVED animals...especially her dogs. We know how much their love helped her through her hard times. In her honor we have donated a suite at PAWS Chicago for the care and adoption of dogs at this no kill shelter. The room is decorated with fun pictures keeping her spirit alive. With your help we made another installment on our pledge bringing the total donation $120,000!
Click image for more info
We are proud to support Gilda's Club Chicago